Dear friends,
You'll notice our theme for the year: "Back together. Better than ever." It was inspired by the 2020-21 National FFA Officer Team, who adopted it as their theme of sorts for the capstone event of their service year: the 94th National FFA Convention & Expo.
In October 2021, we welcomed nearly 61,000 FFA members, advisors, exhibitors, donors, alumni and supporters, and guests to Indianapolis for the in-person event (which also included robust virtual programming). Our goal is that FFA members prepare to be successful in their careers through experiential learning; at the national convention and expo, this is presented on a grand scale.
At National FFA, we believe that teacher recruitment and retention are key in delivering the FFA mission. Through resources and programs such as the National Teacher Ambassadors for FFA, educators are engaged and empowered. Teacher ambassadors are a vital link between agricultural education and FFA. In 2021, we increased the group's size by 62% as 80 agriculture teachers served as ambassadors representing 35 states and Puerto Rico.
Advocacy and literacy are essential to education and agriculture. FFA members are responsible for learning and educating others about where their food comes from and how to promote it as agriculturists. National FFA #SpeakAg Pioneers are one way for FFA members who are state FFA officers to encourage and advance agricultural knowledge through social media and other platforms. In addition, with support from U.S. representatives through the bipartisan FFA Caucus, established in late 2021, we can raise the profile of school-based agricultural education and FFA.
As we look back on 2021 in this annual report, I hope that you see yourself in each story, each success and each impact. Your support is the backbone of FFA. Without it, we could not provide quality, relevant, hands-on experiences and learning for young people through agricultural education.
We are also excited to move forward, and we are eager for you to continue with us in every step along the way.
Thank you,
Scott Stump
A MEMBERSHIP POISED FOR THE FUTURE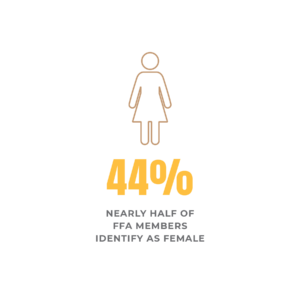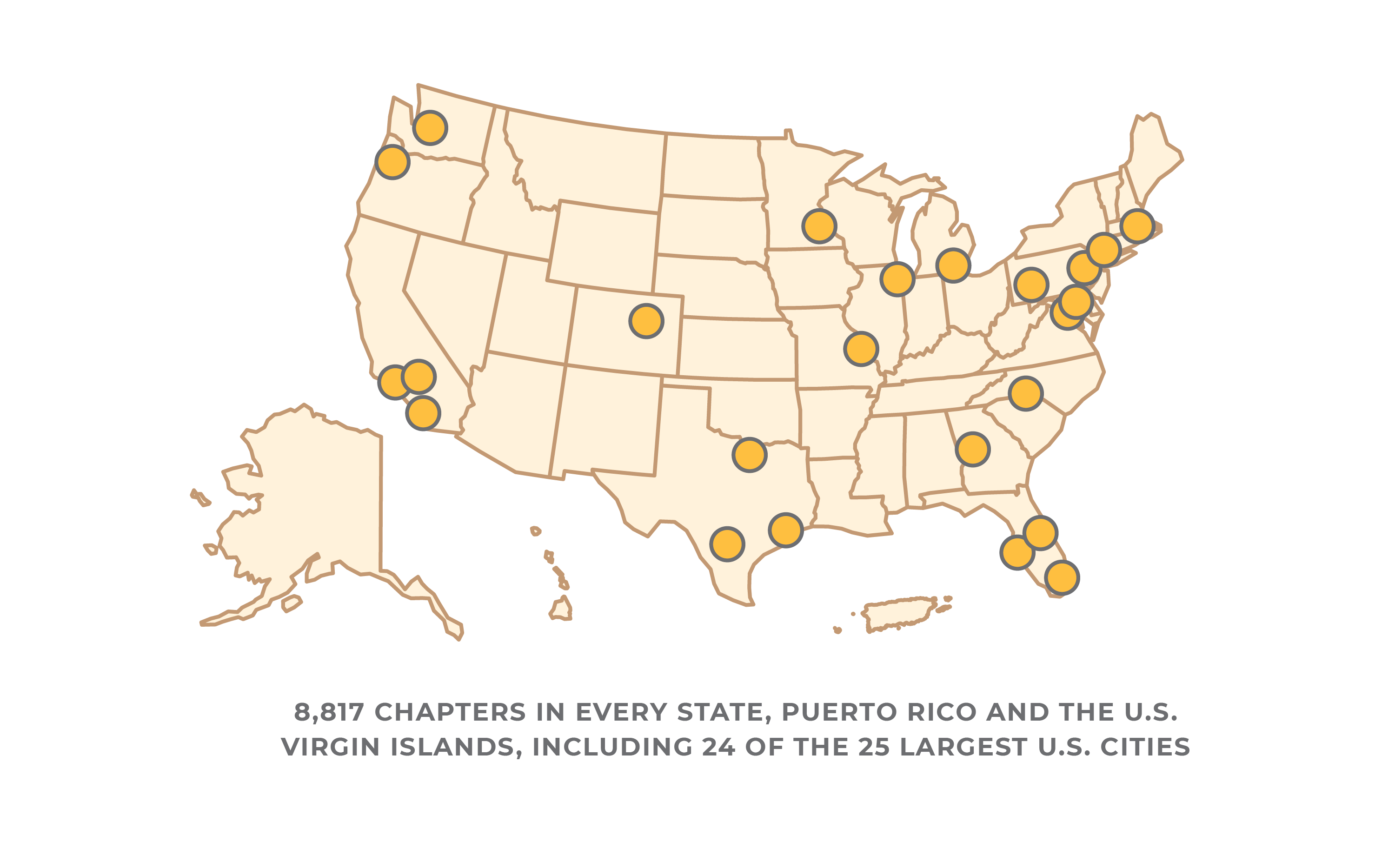 FFA Alumni and Supporters celebrate 50 years of membership
"It's not an understatement to say that we have seen huge growth over the last 50 years," says Allie Ellis, National FFA Alumni and Supporters development specialist.In 2021, the 50th anniversary of alumni membership was honored and celebrated at local and national levels. At the 2021 National FFA Convention & Expo, a video highlighting five decades of the FFA Creed was featured, including National FFA Officers from each decade.
"It was amazing to see how that project resonated with so many people," Ellis says. "It was a perfect way to honor our history — but also show that we continue to believe in the future of agriculture." In addition to the Creed video, the 50th anniversary of alumni membership was celebrated throughout the year with other activities, including a social media "Flashback Friday" campaign showcasing #FFAalumni every month.
National FFA Alumni and Supporters also increased engagement through new channels over the last two years. The FFA ForeverBlueNetwork.org, launched in 2020, now has a network size of 1.3 million with more than 3,800 registered users. Ellis says that because many alumni events took place virtually over the last few years because of the COVID-19 pandemic, more alumni turned to the Forever Blue Network to connect with fellow alumni.
With continually growing membership numbers — in addition to more than 2,400 new FFA Alumni and Supporters chapters — Ellis hopes to see engagement only continue to grow too.
"We've seen a huge growth in quantity for members and chapters," Ellis says. "We want to see quality in engagement increase as we look ahead to the next 50 years. We want to see our alumni helping students and teachers at the local, state and national levels — whether that's in person or virtually through the Forever Blue Network."
A NETWORK BORN THROUGH GENERATIONS
COREY FLOURNOY'S SUCCESS IS ROOTED IN FFA
If it wasn't for FFA, Corey Flournoy says he is certain he wouldn't be who he is today.
Flournoy, who was elected in 1994 as National FFA President, was the first African-American and the first FFA member to come from an urban area to hold that title as a national officer. Today, he is the vice president of diversity, equity and inclusion at Aurora, a company delivering the benefits of self-driving technology, and credits FFA for the skills to "meet people where they are."
"I represented a different part of agriculture," Flournoy says. "I didn't have any experience with agriculture before FFA—and it really changed my perspective on the world. I learned how crucial it was to spend time with people not like yourself and share their experiences with others."
Flournoy says FFA gave him the tools needed for continued success after he retired his blue jacket. That's why he's passionate about continuing to support the organization, including being a life member and a sustaining donor for nearly 15 years.
"I am who I am because of FFA," Flournoy says. "I really believe that the secret to making progress as a society is the relationships we make. We don't make progress unless we form relationships with people who are not like yourself. FFA taught me that—and I will carry that for the rest of my life."
JULY
44 FFA members focused on production agriculture gathered in Indianapolis for the New Century Farmer Conference to discuss how agriculture will play a pivotal role in their futures. The conference was canceled in 2020 due to the pandemic.
AUG.
The National FFA Organization announced its membership numbers for 2021 — with 735,038 members and 8,817 chapters in all 50 states, Puerto Rico and the U.S. Virgin Islands.
SEP.
23 FFA members were named 2021-22 #SpeakAg Pioneers— official advocates for agriculture, education and FFA on behalf of the National FFA Organization.
OCT.
FFA members built more than 100 little free pantries and wrote more than 250 uplifting cards for Meals on Wheels participants during the in-person National Days of Service at the National FFA Convention & Expo.
NOV.
AgCareers.com in partnership with the National FFA Organization hosted a "Feed Your Future" Virtual Internship Career Fair for FFA members and alumni. The career fair had representatives from more than 30  companies looking for their next interns.
DEC.
Brian and Laurie Field aim to educate through support.
Brian and Laurie Field have experienced and witnessed the impact that FFA can have on an individual — or in their case, multiple generations.
They are lifetime supporters and, through the help of the National FFA Foundation, gave a generous gift of stock in 2021 to Oregon FFA, Colorado FFA and National FFA. "The gift and the complication of donating appreciated equity funds was made very simple by National FFA for the benefit of all entities," explained the Fields.
They want to see their gift — which will be used right away instead of being deferred — support and educate school administrators on the benefits of FFA.
Brian and Laurie, who are FFA alumni, met in college. Their three daughters were in agriculture classes in high school; Bailey and Madison were active in Oregon FFA leadership programs. Bailey was state sentinel, earned her American FFA Degree, and is a former agriculture teacher.
Brian's father Robert became involved in FFA in the 1940s and served as Colorado's state secretary. Brian, his brother John, and their sister Kelley (Field) Sanburg were all involved in FFA, became state officers in Colorado and all three achieved the American Farmer degree. The Fields and their father all shared the same FFA advisor over a span of almost 40 years.
After watching the impact that FFA had on their family, Brian and Laurie started donating time and finances to the Oregon FFA Foundation, the Colorado FFA Foundation and National FFA to help more students fulfill their potential.
"Over the years, we have seen countless people dedicate their lives to develop leaders in agriculture," Brian and Laurie say. "We see this as our way of paying it forward and continuing that legacy." The Fields continue to contribute their time and talents to FFA through mentoring state officers and judging Career Development Events (CDEs). FFA continues as a way of life for the Fields and it's a lifestyle they want to see grow through their support.
"When you cross paths with a leader in agriculture, chances are they came from an FFA program," Brian and Laurie say.
MEMORIES THAT REFLECT MENTORSHIP AND GROWTH.
Lifelong friendships with lifelong impact.
Josiah Cruikshank has personal experience with strangers suddenly turning into lifelong friends.
Cruikshank, 2021-22 National FFA Western Region Vice President, met Brian and Laurie Field at a mutual friend's wedding several years ago. What started off as a quick introduction has turned into a friendship cultivated by a passion for agriculture and FFA.
With Cruikshank and the Fields being from Oregon, the Fields supported him with advice and mentoring as he prepared to run for state office in Oregon — where he was elected as state president in 2019-20. That eventually led to running for national office, where he received similar support from the Fields —
support that Cruikshank says was invaluable.
"It just goes to show the relationships you make along the way can make all the difference," Cruikshank says. "The Fields have been huge supporters of mine. Their support of FFA makes a huge difference in lives like mine and so many others."
As he continues his journey as a national officer, Cruikshank says he is constantly reminded of the importance of philanthropic support and dedication from individuals like Brian and Laurie.
"Everything we do wouldn't be possible without the work individuals like Brian and Laurie do every day to support the future of FFA and agriculture," Cruikshank says.
More than 735,000 members are involved in FFA and have access to participate in countless competitions and awards. With all the opportunities to engage at the local, state and national levels, FFA members have endless possibilities for finding their place in agriculture.
For nearly 50 years, the CHS Foundation has been a partner of the National FFA Organization, supporting initiatives that help prepare students for careers in agriculture. The CHS Foundation is funded by gifts from CHS Inc., the nation's leading farmer-owned cooperative, and makes investments on behalf of the entire cooperative system. Recently, the CHS Foundation renewed a three-year Platinum partnership that included annual funding for the National Association of Agricultural Educators National Teach Ag Campaign, State FFA Officer Leadership Continuum, 20 supervised agricultural experience (SAE) grants, eight agricultural proficiencies, the National FFA Convention & Expo and support of 17 state FFA associations.
"The CHS Foundation is dedicated to developing future ag leaders for lifelong success," says Nanci Lilja, the president of the CHS Foundation. "We believe in supporting students as they navigate through all stages of their ag education journey—from the classroom to experiential learning and leadership opportunities."
The CHS Foundation's support for students starts in the classroom through its sponsorship of the National Teach Ag Campaign, which is focused on recruiting and retaining high school ag teachers.
"Ag teachers often provide a student's first connection to FFA and agriculture," says Lilja. "The more ag teachers we can get into classrooms—and keep there—the more opportunities we have to grow the talent pipeline. When we lose ag teachers, we lose another opportunity to make connections to agriculture."
By funding SAE Grants and proficiency awards, the CHS Foundation helps reinforce the lessons learned in the classroom with real-world experiences that extend far beyond a young person's time in FFA.
"When we hear from an FFA member about how their SAE project is sharpening their entrepreneurial skills, influencing
their career choice or helping them pay for college, it's inspiring," says Lilja. "We are truly watching future leaders in action."
Making 20 SAE Grants possible is just one way the CHS Foundation reaches students on the local level. Providing support to the 17 state FFA programs where CHS farmer-owners and cooperative employees live and work is another.
"There's no better way to live out the CHS purpose of creating connections to empower agriculture than supporting the students who will become future cooperative owners and employees," says Lilja.
It's the strength of the connection with FFA members that drives the partnership between National FFA and the CHS Foundation forward.
We have always been incredibly impressed with FFA members and all they represent and accomplish, which inspires us to reach as many of them as we can with our support."
CHS Foundation helps make National FFA Convention & Expo experiences possible.
When the Mechanicsburg FFA Chapter from Ohio advanced to the national finals of the Meats Evaluation and Technology Career Development Event last year, they knew having the opportunity to attend the 2021 National FFA Convention & Expo would be even more meaningful than usual.The team, comprised of four Mechanicsburg FFA members, had only participated in virtual judging contests until that point because of the COVID-19 pandemic — and getting the opportunity to travel to national convention meant this would be their first time participating in person at an event they had  tirelessly studied and practiced for over the last two years.
A $2,500 stipend from the CHS Foundation to support their travel helped make the trip possible. Advisor Abby Powell says having those funds made an already momentous trip that much more gratifying.
"We were incredibly grateful for the support from the CHS Foundation," Powell, who is in her third year of teaching agricultural education at Mechanicsburg, says. "Their support  helped make the trip more affordable for our students, and in turn, we were able keep some of our existing funds in the classroom."
Support from donors like the CHS Foundation is what makes these types of experiences possible for all FFA members, Powell says.
"By supporting these students financially, the CHS Foundation helped us continue to support our other students too," Powell says. "You can see the benefits both in and out of the classroom."
BUILT ON CAMARADERIE AND ONGOING SUPPORT.
Supporting every jacket—every member—together.
Financial contributions help support FFA members, chapters, and advisors and agricultural education programs at the local, state and
national levels. Your support makes it possible for young people to become premier leaders, experience personal growth and develop
successful career skills.